Apply for Nursery Place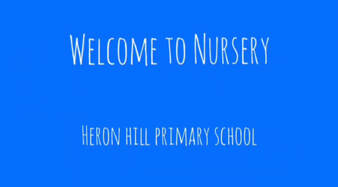 Applying for a Nursery Place ​at ​Heron Hill Primary School
All children are eligible to at least 15 hours of free funded nursery education from the term after their third birthday. If you live in Cumbria and your child was born between 1st September 2018 and 31st August 2019, they are entitled to at least 15 hours of free nursery education from September 2022. Further details can be found at: www.cumbria.gov.uk/schooladmissions
Our nursery provision has changed with the introduction of the 30 hours free funded nursery entitlement (for parents who meet the eligibility criteria). We have therefore reviewed our nursery grant provision policy to reflect these changes and this has resulted in more flexibility in the nursery provision we are offering to all parents (see Heron Hill Policy for Nursery Grant Provision).
You are invited:
We would like to offer you the opportunity to visit the nursery and meet our staff at one of the open sessions :
If you would like to attend any of the sessions please email Mrs Carmen Roberts at admin@heronhill.cumbria.sch.uk stating your preferred session(s) as numbers are limited; please can all adults bring a face covering to wear in the indoor areas – thank you.
If you would like to apply for a place at Heron Hill Nursery please complete the application form and return it to the school, in person. The closing date for September applications is 25th March 2023. You should also bring proof of your child's date of birth such as a birth certificate or passport and of your home address e.g. recent utilities invoice. The school office is open between the hours of 8.30 am and 4.30 pm. Alternatively, you can post your completed form to the school and we will arrange to do the checks at a later date.
​We also have nursery intakes in January and April for eligible children; further information is available from the school.
We would also like to send you our nursery admissions pack with further details; we look forward to hearing from you.